Toenail Fungus Treatment in San Antonio & Uvalde, TX
Our podiatrists treat toenail fungus in the areas of San Antonio, TX 78224 and Uvalde, TX 78801. Call our offices today: San Antonio at (210) 643-6798; Uvalde at (830) 278-1840 if you are dealing with fungal toenails.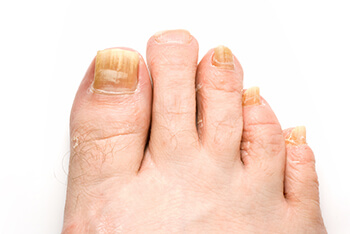 The area of the toes is generally warm and damp, unfortunately making it a great area for fungus to grow. If left untreated, the fungal infection can spread, which is why it's so important to get professional help early on and look into your treatment options.
Fungal infections occur due to fungus getting through the cracks of the toes or cuts in your skin. Common signs that you may have a fungal infection include thicker than normal toenails, oddly shaped toenails, discoloration, a yellowish hue to the nail, and separation of the nail and nail bed. Fungal infections can affect anyone but are most common among men, those with diabetes or athlete's foot, and smokers. The risk of having toenail fungus also increases as you age, if another family member has it, and if you have a weaker immune system.
Fungal Toenails prevention tips
To avoid getting a fungal infection, it's important that you wash your feet daily with soap and water, making sure to get in between your toes, and dry the feet well. When cutting your toenails, make sure the clippers you're using are clean and that you're cutting straight across. It's also important that you wear shoes in areas where fungus can thrive, such as wet public places like swimming pools or locker rooms.
Our practice offers the Cutera laser to combat nail infections and restore clear nails. The laser works by passing through the nail and surrounding tissue, where it is then absorbed by pigment in the infection-causing fungi. This absorption then causes the pigment to heat up, killing or damaging the fungal organism.
The treatment process involves passing the laser beam over the infected nails and surrounding skin. This may be repeated as many times as needed until enough energy has reached the nail bed. While most patients see improvement after one session, multiple sessions may be required depending on your podiatrist and your case of fungal nails.
Proudly serving neighboring communities of Del Rio, Eagle Pass, Carrizo Springs, Crystal City, and others.