Podiatrist Neeta Hasmukh, DPM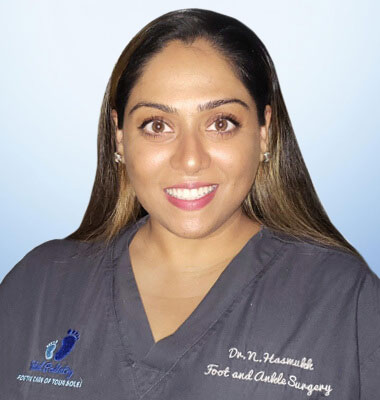 Neeta Hasmukh, DPM

Neeta Hasmukh, DPM is a Podiatric Foot & Ankle Surgeon in San Antonio, TX. Dr. Hasmukh has 11 years of experience with special training and skill in diagnosing, treating, and preventing a wide range of foot and ankle disorders.
Dr. Hasmukh received a Bachelor of Science in Biology/Chemistry from Texas Woman's University in Denton, TX before attending medical school at Ohio College of Podiatric Medicine, where she earned a Doctorate of Podiatric Medicine in 2010. Dr. Hasmukh then completed her postgraduate training with a podiatric medicine and surgery residency at Coney Island Hospital in Brooklyn, NY in 2013.
As a Podiatric Foot & Ankle Surgeon, Dr. Hasmukh is affiliated with Texas Vista Medical Center in San Antonio, TX. She performs foot and ankle diagnostic imaging, pain and mobility assessment, foot and ankle surgery, treatment of acute foot and ankle injuries and disorders as well a full range of services and in-office pain relief for a variety of minor foot and ankle disorders.
Dr. Hasmukh is proud to better serve the diverse community of San Antonio by her fluency in both English and Spanish.
Podiatrist Bhavesh Shah, DPM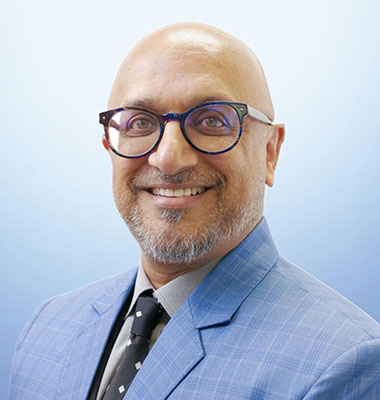 Bhavesh Shah, DPM

Bhavesh Shah, DPM is a board certified podiatric physician and surgeon in practice since 2006, and Co-Director of Operation Footprint.
Dr. Shah received a Bachelor of Science from the University of Illinois in Chicago, and then attended Dr. Scholl College of Podiatric Medicine in North Chicago, IL where he received a Doctorate of Podiatric Medicine in 1998. In 1999, Dr. Shah did an internship at University of Texas Health Science Center at San Antonio, and then completed a three-year residency at Foot and Ankle Institute of Monrovia California in 2002.
Dr. Shah is board certified in Foot Surgery with the American Board of Lower Extremity Surgery, the American Professional Wound Care Association, and the American College of Foot and Ankle Pediatrics (ACFAP).
As the Co-Director of Operation FootPrint, a non-profit global organization that provides free surgical care to indigent children in India, Mexico, El Salvador, and Honduras with genetic or acquired conditions of the foot and ankle, Dr. Shah performs life-changing surgeries. Under the auspices of Operation FootPrint, he also trains local surgeons in complex deformities to help make a lasting difference in the communities they serve around the globe. To learn more about the charitable work Dr. Shah and Operation FootPrint does around the world, please visit operationfootprint.org.
Dr. Shah is also a mentor and trainer for other podiatrists, surgeons, and podiatry residents across the country and worldwide. He has created a series of video training master classes featuring some of the industry's most renowned podiatrists and surgeons.
Dr. Shah is pleased to offer his patients in San Antonio the benefit of his 15 years in practice and an unparalleled scope of experience through the complex surgeries he has performed for Operation FootPrint. He is also happy to be able to communicate with his diverse population of patients by being fluent in both English and Spanish.
Come Visit Out Foot Doctor in San Antonio, Uvalde, Texas!
We accept most insurance plans and welcome new patients!
Call today and get back on your feet! San Antonio at (210) 643-6798 and Uvalde at (830) 278-1840.