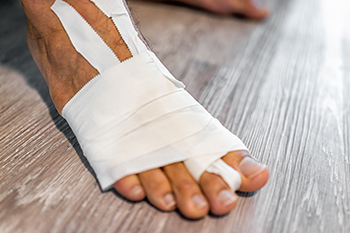 Turf toe is an injury to the joint at the base of the big toe that often occurs in athletes who play field sports, like football, baseball, and soccer. It happens when an athlete forcefully jams his or her toe into the ground and it bends backward, beyond its normal limit. This can easily happen when a sport is played on grass or artificial turf, hence the name turf toe. Some experts believe this injury can also result from sports shoes that do not have a stiff toe, are not rigid enough in the forefoot, or from not wearing the correct cleats on their shoes for their chosen sport. This type of injury usually results in a bruise at the base of the big toe, where the joint capsules and ligaments have stretched or torn. This affliction causes extreme and immediate pain and over time the joint may become stiff and be more prone to arthritis. The lack of mobility in this joint can increase the chance of injuring the big toe again in the future. It must heal completely or will impede continuation in sports. If you or your child has hurt their big toe in this way, it is suggested that you visit a podiatrist who can make a proper diagnosis and offer treatment.
Sports related foot and ankle injuries require proper treatment before players can go back to their regular routines. For more information, contact one of our podiatrists of Total Podiatry. Our doctors can provide the care you need to keep you pain-free and on your feet.
Sports Related Foot and Ankle Injuries
Foot and ankle injuries are a common occurrence when it comes to athletes of any sport. While many athletes dismiss the initial aches and pains, the truth is that ignoring potential foot and ankle injuries can lead to serious problems. As athletes continue to place pressure and strain the area further, a mild injury can turn into something as serious as a rupture and may lead to a permanent disability. There are many factors that contribute to sports related foot and ankle injuries, which include failure to warm up properly, not providing support or wearing bad footwear. Common injuries and conditions athletes face, including:
Plantar Fasciitis
Plantar Fasciosis
Achilles Tendinitis
Achilles Tendon Rupture
Ankle Sprains
Sports related injuries are commonly treated using the RICE method. This includes rest, applying ice to the injured area, compression and elevating the ankle. More serious sprains and injuries may require surgery, which could include arthroscopic and reconstructive surgery. Rehabilitation and therapy may also be required in order to get any recovering athlete to become fully functional again. Any unusual aches and pains an athlete sustains must be evaluated by a licensed, reputable medical professional.
If you have any questions please feel free to contact our offices located in San Antonio, and Uvalde, TX . We offer the newest diagnostic and treatment technologies for all your foot and ankle needs.
Read more about Sports Related Foot And Ankle Injuries